Since 2019, the Walker's Point Association awards at least one scholarship to a Bradley Tech graduating senior. The selection process is conducted by the Tech Alumni Association. Winners receive $1,000 to be used for further education at an institution of their choice.
Previous Winners
2021
Davidi Alepembwe
Daijane Smith
An Le
Kymora Kimbrough
Rylan Nowak
2019
Taif Al-Dulaimi
Mariah Erby
For every $1,000 we raise, we will award another scholarship.
If you make a Signature Scholarship level donation, we can co-brand the scholarship to a recipient.
---
About Bradley Tech

Lynde and Harry Bradley Technology and Trade High School (Bradley Tech) is the premier technology and trade school of Milwaukee; with a rich history and ever-evolving future.  Located in the heart of the Walker's Point neighborhood, Bradley Tech educates approximately 1,000 students from across the city.  To support all of our students in achieving academic and personal success Bradley Tech offers a broad range of scholastic options, including clear pathways for students into four-year universities, tech/trade education, and apprenticeships.
Source: http://www5.milwaukee.k12.wi.us/school/bradleytech/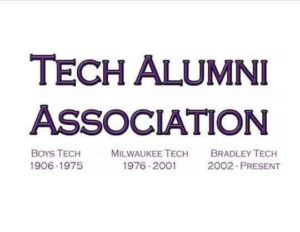 About Tech Alumni Association
The Tech Alumni Association (TAA) seeks to unite alumni in their efforts to maintain Tech's long-standing legacy and tradition by establishing and nurturing relationships with the school, current students' and alumni from Boys' Tech, Milwaukee Tech and Bradley Tech.
Source: https://www.techtrojans.com/